Terms & Conditions of Hire
Terms & Conditions of Hire
[LAST UPDATED: November 2022]
SET SURFACES
Unit 37 Townmead Road, London, SW6 2SZ
The Client is responsible for the hired goods and must insure against all risks.
Delivery and collection of goods are not included in the hire charge.
It is the responsibility of the Client to ensure;
Any sub-contracted transport has adequate insurance cover.
The appropriate blankets and ties should be used in enclosed vehicles for transportation.
We reserve the right to refuse collection if the appropriate protection is not available.
Packing Protective Bags, which are supplied free of charge for the period of hire, will be charged to the Client if not returned or replaced.
Due care must be taken with all hired items and they may only be used inside premises unless we agree otherwise.
The Customer undertakes to keep the hired items in good condition.
A signature must be obtained upon their return.
A penalty charge of £25.00 + VAT may be charged for missed delivery windows.
The cost of repairs or replacement of goods damaged or lost during the period of hire will be charged to the Client.
Goods not returned by the due date will be invoiced for extended hire until such time as the goods are returned or the replacement value of the goods is received.
We are unable to give copyright clearance in advance of hires on our goods as we have no control over how the items are used however our suppliers are aware of the nature of our business and are happy for them to be used in the visual media. If you have any doubts or concerns please seek your own legal advice.
The responsibility for the safe use of items rests with the client and we highly recommend that all are checked prior to use. To the fullest extent permissible by applicable law, the client acknowledges and agrees that:
No warranties (whether expressed or implied) are given with respect to the goods and that all liability and responsibility for their use rests with the Client (even if the Client  has given notice of the intended use of the goods): and
All the hiring company's liability with respect to the goods and their use by the Customer is hereby excluded.
Payment
We reserve the right to request a deposit against any order(s) placed with us.
Where Surfaces are taken out of the country we will require a deposit.
A minimum Hire charge of £95.00+ VAT is applicable to each contract.
Extended hire charges and loss & damage invoices are payable by return.
Any account where cheques are returned or payments not cleared will be subject to an administration fee of £25.00 + VAT and may result in the refusal of certain payment methods in the future.
An administration fee of 10% of hire will be made for orders cancelled more than 24 hours prior to collection date. A cancellation charge of 50% of hire will be made if notification is received less than 24 hours prior to collection date, or goods not collected.

With Respect To Custom Print Hire
1. The supplied files are saved to the correct size and format.
 2. All files have been checked (including zooming in) to ensure everything we need it to be 'print ready'.
3.The Client has saved a 10cm by 20cm section of the artwork @100% [1:1 scale] to confirm what will be seen when printed full size/ large format.

With Respect To Custom Hire Copyright and Image Use
1. The Client confirms that they have obtained clearance to use this image within a commercial shoot and for commercial purposes - and have not taken any aspect of the image which is not owned by them from another source without express written permission by the owner for repeated commercial use.
2. The Client accepts that overlooked issues with files printed by Set Surfaces are the responsibility of the Client and Set Surfaces cannot be held responsible, nor once an order is placed can a refund cannot be given
3. The Client confirms that they are are aware that the custom print is a hired print, that will be returned to Set Surfaces after the hire to be added to our 'ready to hire' collection.
4.The Client confirms that once printed, Set Surfaces has full copyright ownership of the image printed and can reuse this print as part of their hired collection and other digital products.
By placing an order with us you accept that:
(i) You have read and accept our terms and conditions printed above.
(ii) Our terms and conditions will prevail at all times.
(iii) You will make payment of all invoices according to our credit terms..
About SET Surfaces
Set Surfaces is a sustainable set hire service providing portable ready made and bespoke set solutions for shoots and events. Our SETPanels consist of textiles mounted onto lightweight panels and come in a variety of designs and finishes. All textiles have been handpicked, from high end metallic snakeskin prints from Chelsea Harbour, to prints of plaster, wood and bricks shot in Argentina. Our panels are beautiful yet practical, and provide a simple cost effective background solution for small scale shoots and events without compromising on quality.

About Helen Labourt
Helen Labourt is the founder of Set Surfaces and an accomplished Set Stylist who has been working in the Film and Television Industry for more than 20 years.

She studied Fine Arts Textiles at Goldsmiths University before going on to apply her passion working as a stylist on TV Commercials and photographic stills shoots.

Frustrated by the huge amount of Set Design shoot waste, Helen realised there was a need for 'ready to hire' portable sets that could be re-hired and used again. The initial idea included textured backgrounds 'flats' that would complement the set and conceal any issues with location shoots and so, Set Surfaces was born.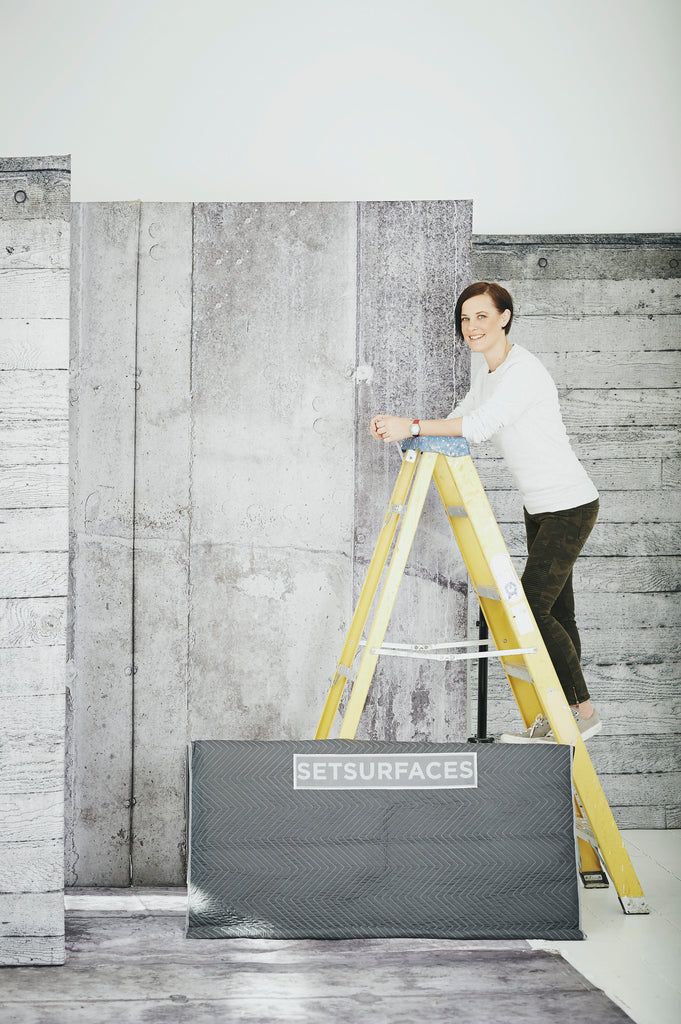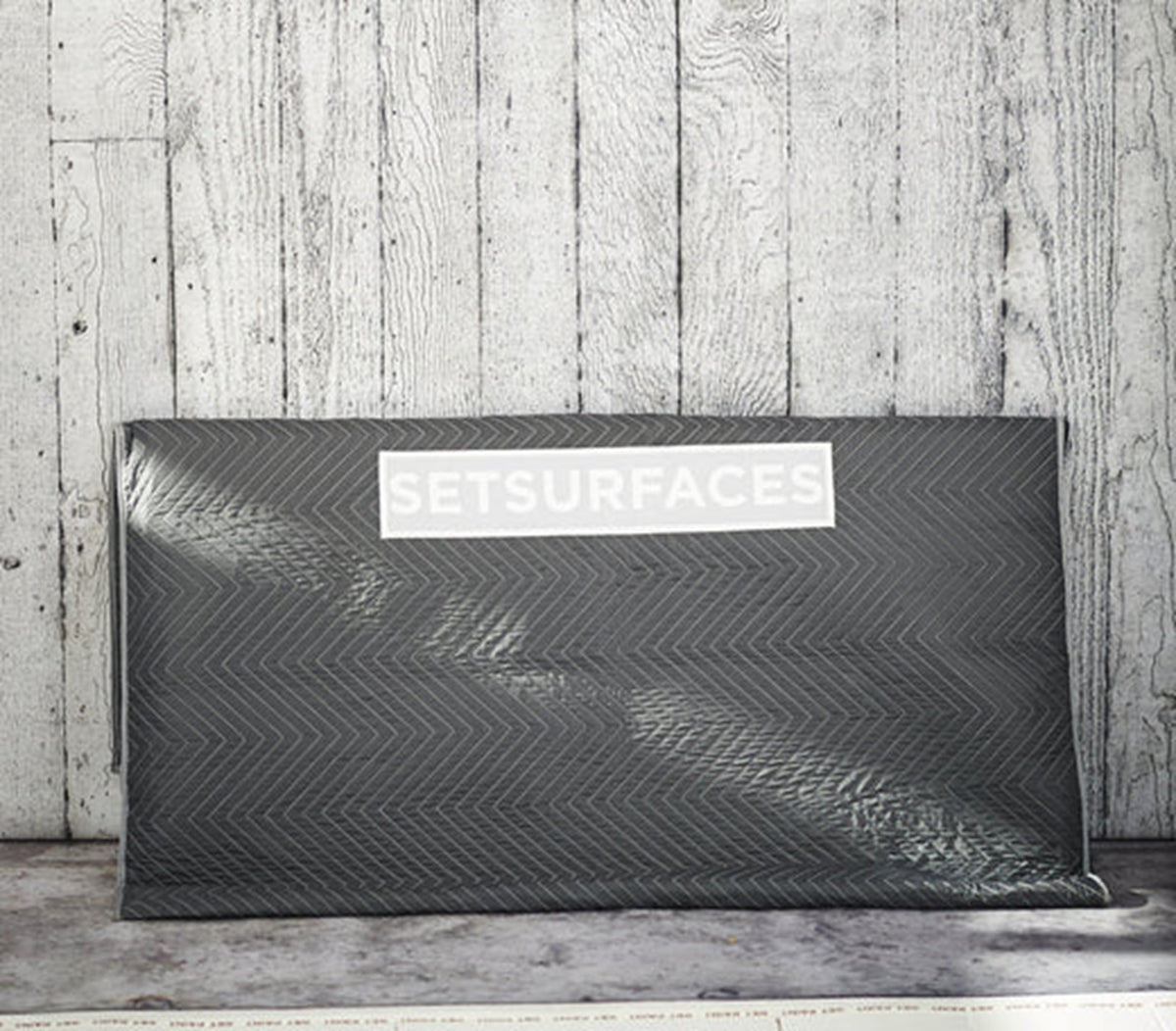 Ready To Hire SETS
Today, the panels have evolved from early prototypes of wallpaper on wood and cardboard, to super lightweight SETPanels and interchangeable SETSkins.
With an extensive catalogue of both our own technical textile prints and designer brand luxe metallic fabrics.

How Are Set Surfaces Panels Used?
Our panels are used in both studios and on location for shoots, and for events. They are used as textured backgrounds for fashion and product shoots, or to practically to conceal an issue with the set when shooting on location.Unlike traditional wooden flats the panels are portable, super light weight and ready made. We can dispatch same day direct to your set. We also work hard to keep them affordable, so it's never been easier to 'pop a panel' on set
SETPanels + SETSkins + SETFloors + SETDrop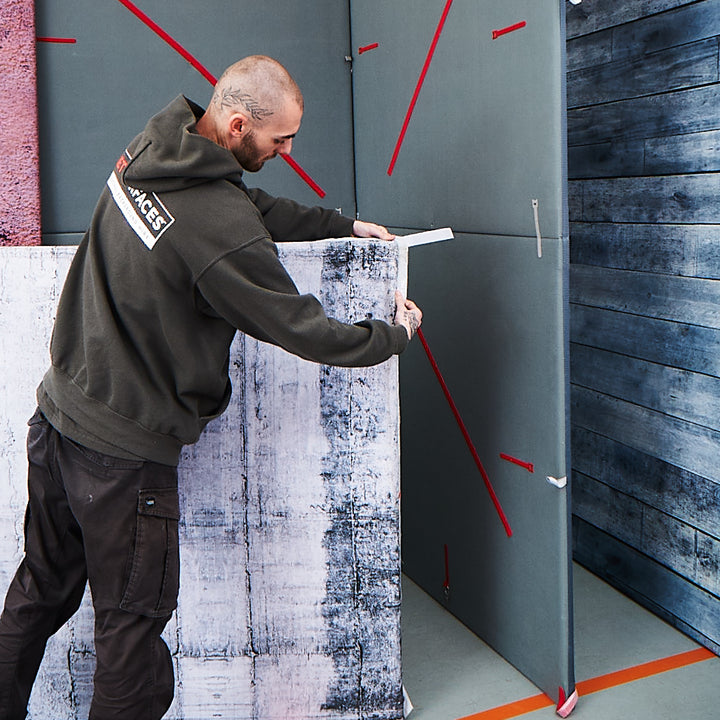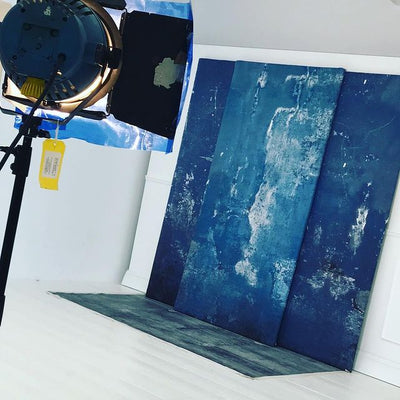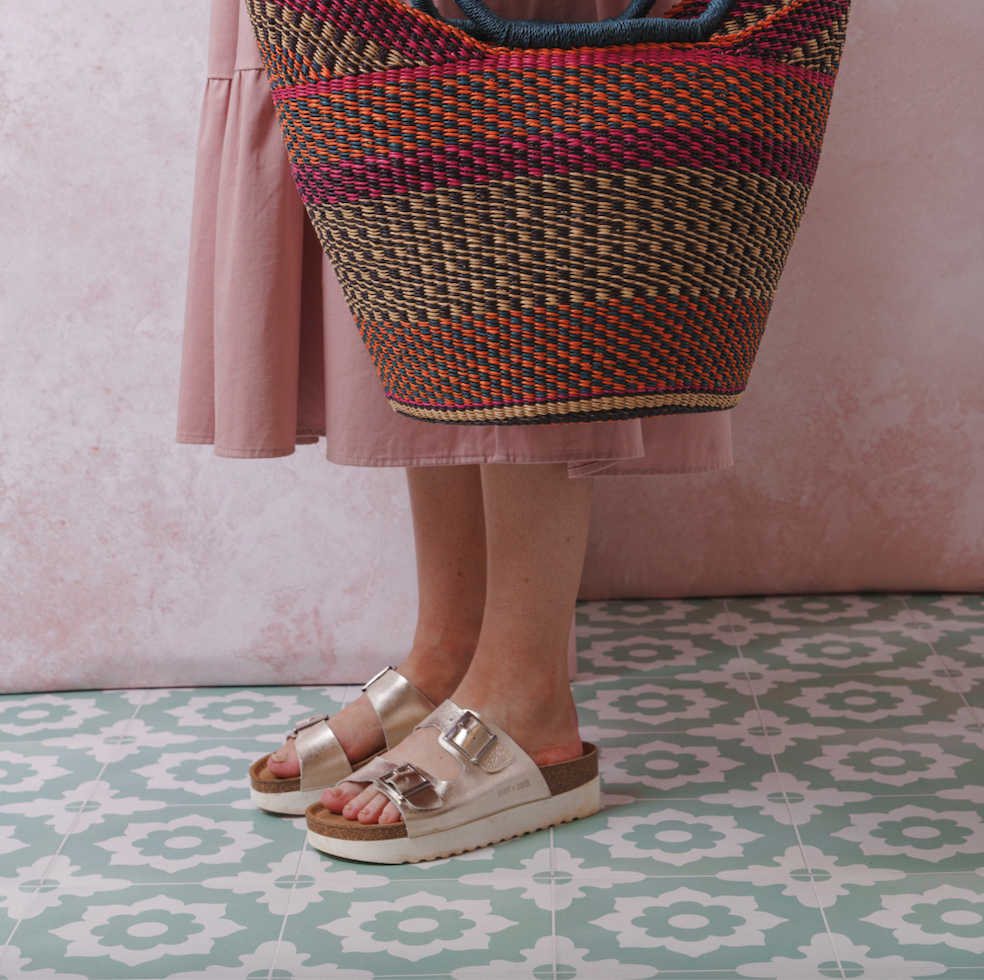 Our Sustainabilty Credentials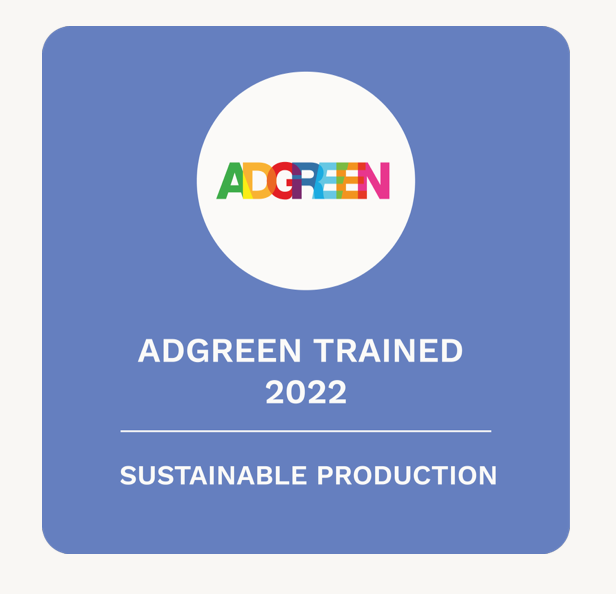 Our Prop House & Studio Partners