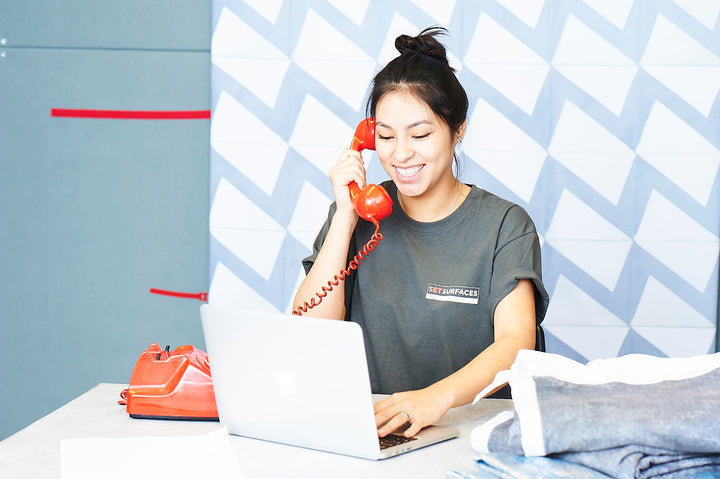 Need a Custom SET? Call Us
We Love printing custom sets.
72 business hours from file to shoot, onto sustainable technical textile.
3700+ SET Design Options
Unique scale 1:1 faux textures including concrete, wood and plaster. With our new Block + Texture product, the design options are limitless.
Clients can now choose from our pre-printed colour palette of block colours, and combine that colour with a library of textures, to create their own desired texture.To ensure the perfect shoot finish, and avoid retouching, we can send our pre-printed textile swatches over for you to test shoot, with your lighting set up. We find, that with flash, colours shoot lighter by 2-3 shades. So it's advisable to print in a darker shade that desired. This video case study, of a custom printed wall and floor for Brand Alley, gives an ideal example.Any surfaces that has the RTH icon in the top right, are already printed and are ready to hire. Surfaces that have a C72 icon, can be custom printed within 72 business hours.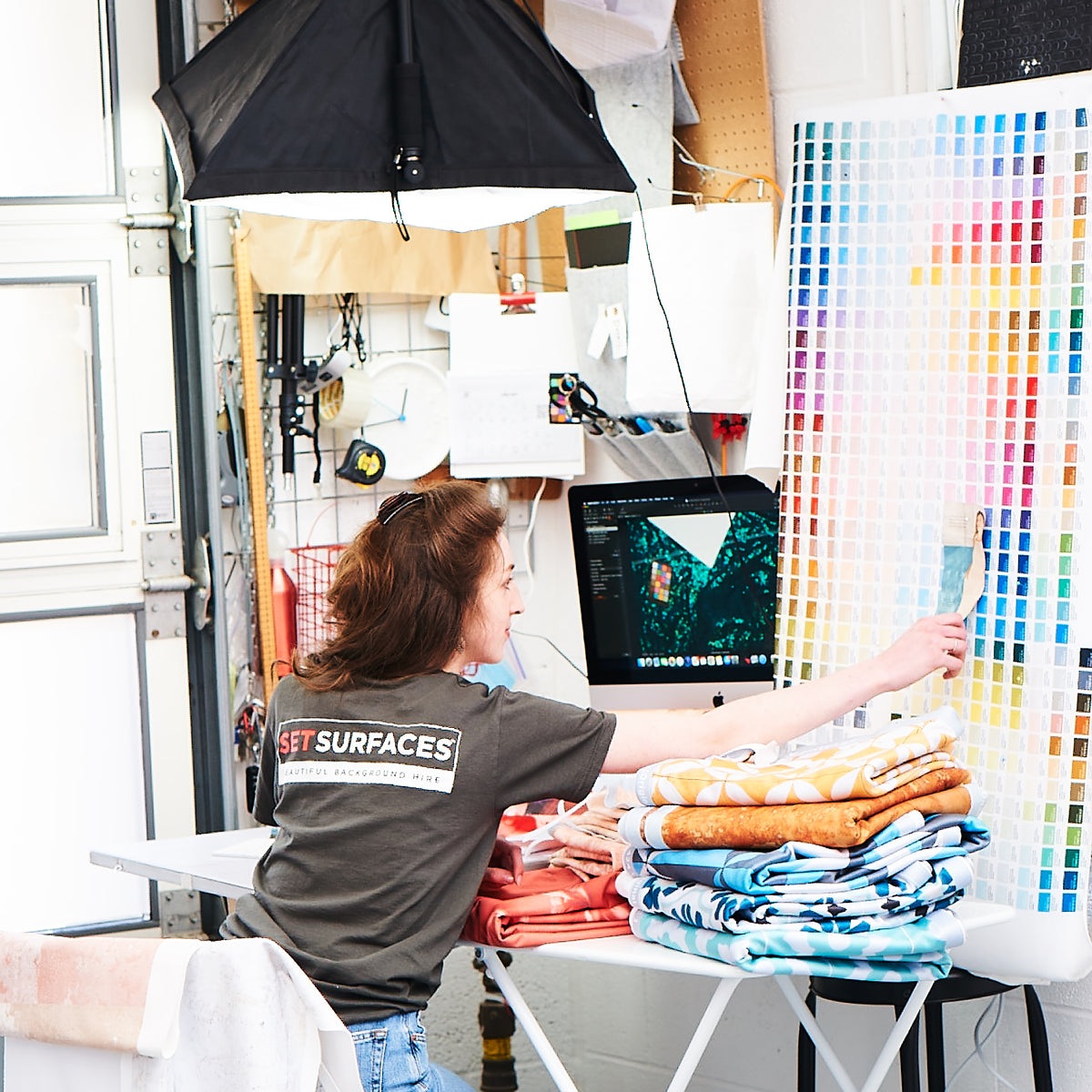 Client Case Study | Brand Alley - Matching SETSkins and SETFloor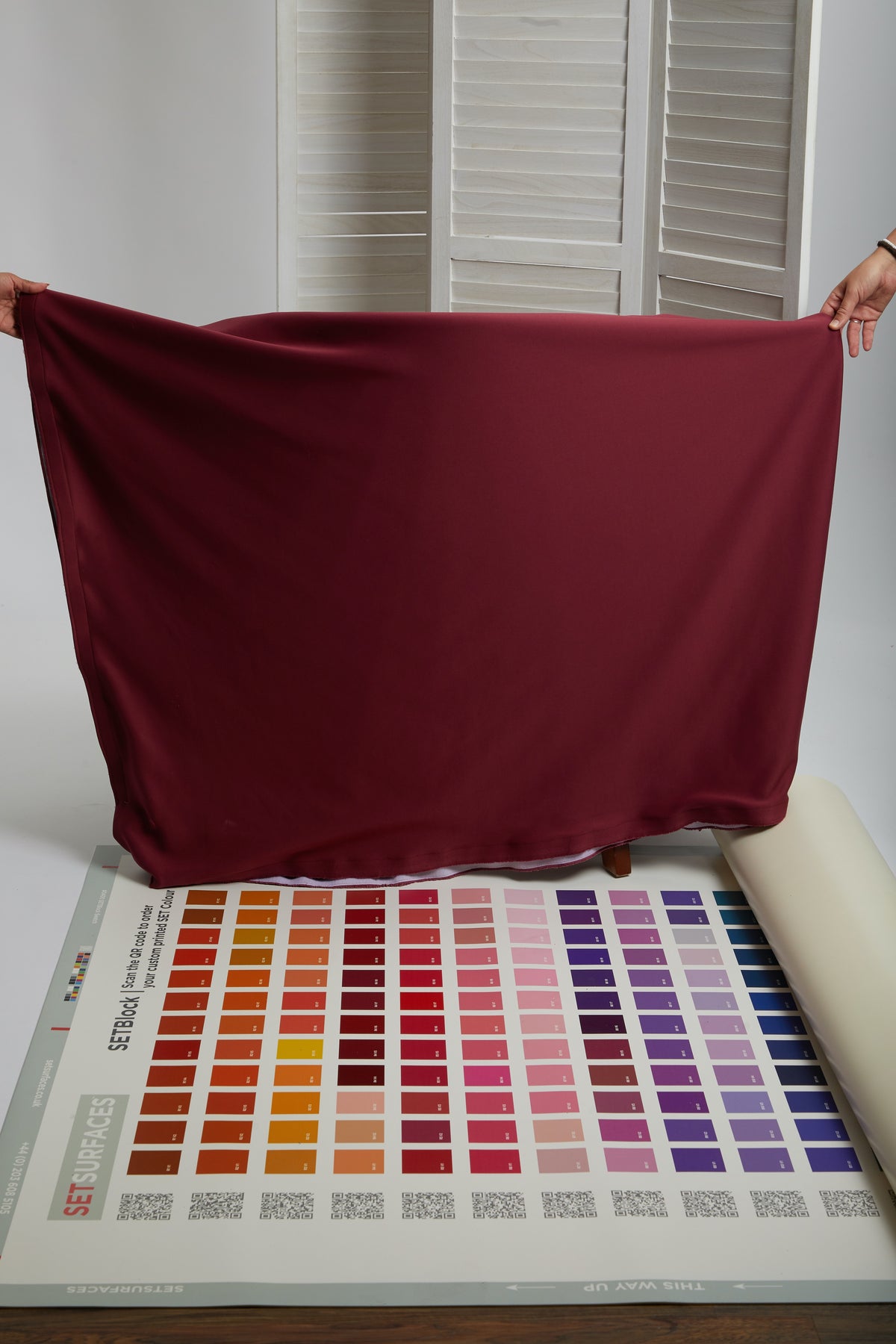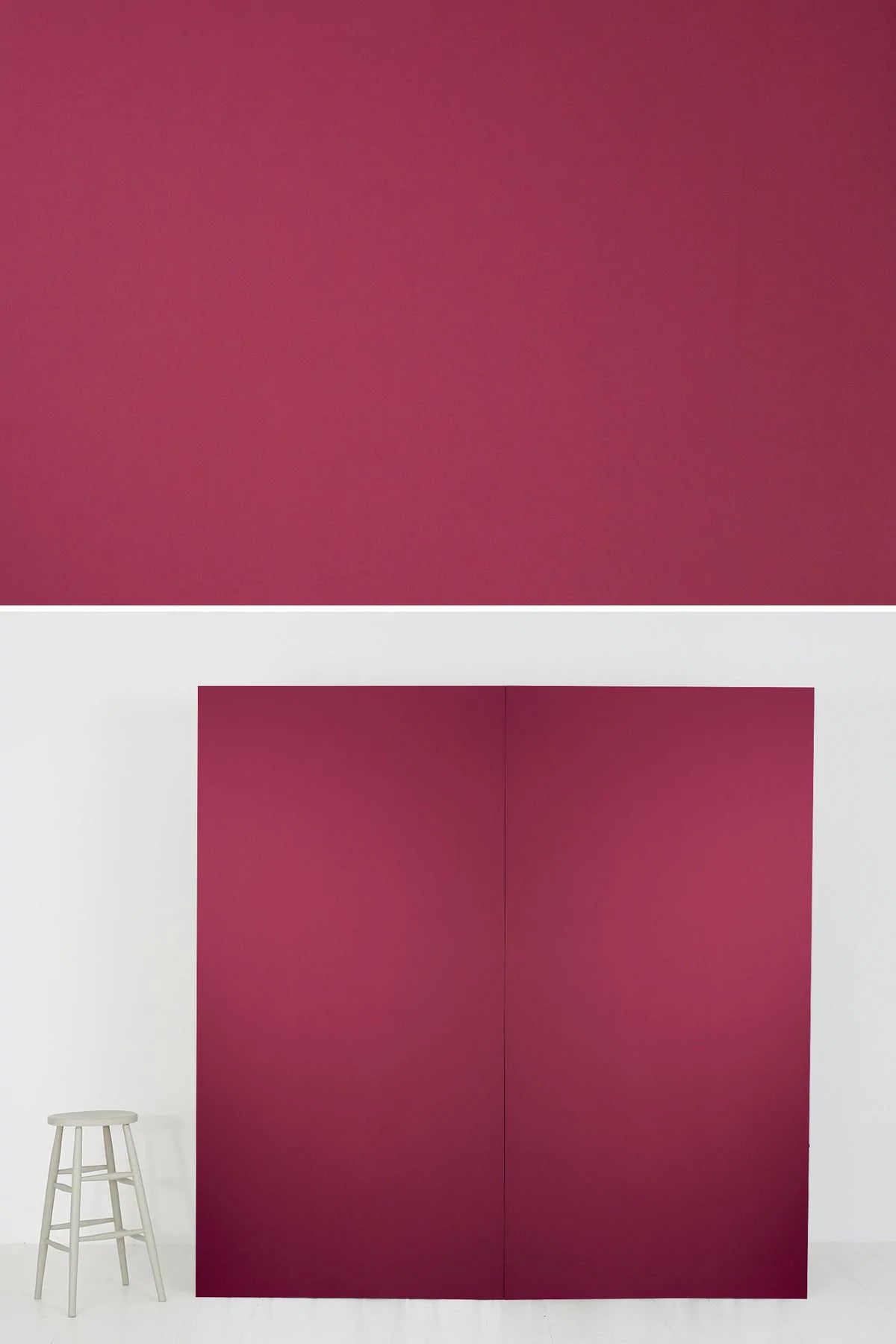 How To Get Started
SETPanels, the Art needs to be;250 cm high, by 137 cm wide @300 DPI
We can send you a SETPanel file that contains a frame to sit around the artwork to ensure the size is correct.For SETDrops, the Art needs to be;550 cm high, by 300 cm wide - We can send you a SETDrop file that contains a frame to sit around the artwork to ensure the size is correct.
Please submit hi-res files at 300dpi and are 1:1 Scale.We highly recommend print a 30 cm x 30 cm a test section to confirm colour and detail.We offer Bespoke Printed Digital Backdrops with a *72 Hour Turnaround
Need Design? We can create Trend look books and create Set Design and lighting plans to match your product brief.
Need Quantity? No worries, we can custom print more to meet your need
Need Branding? We reproduce images from our own image library with logos/ graphics added for branded eventsAvailable in digital format, any size, starting from £145 per 8'x4' panel
With our portable set system, the panels can be dispatched via courier, anywhereIf you have a bespoke surface need, call us
Common Custom Print Questions
We only print on Sustainable technical textile (not canvas or vinyl). We find this to be the best for photography as it's light absorbing with a high quality finish.
Our standard printed width is 10 foot wide, we like to adhere to this where possible as it's limiting waste of material which is manufactured at 10ft wide.
When we custom print it is also a hire, which means the item will be returned to us at the end of use. This is to commit to our zero landfill policy.
We can create a hire charge on a long term hire, based on the scope of use.
We offer of 72 business hour turnaround, however this depends on the availability of the machines with our print partners
If time permits, for a small additional cost we can print your *'resolution test' section and send it to you.*see below
Technical File Info - SETDrop
Artwork needs to be generated at 300 DPI.
We highly recommend - a 'resolution test' by saving the section of the file at 30 cm x 20 cm @1.1 Scale - to confirm the detail result.
We will add 100mm grey printed border to the top edge - and sew in a 'pole pocket' so that the SETDrop can be hung.
We need confirmation on email of the source of the artwork, such as commercial rights usage if purchased from a stock library.
Should the file need more texture density/detail, we recommend the use of software such as 'blow up' - which can add pixels which result in depth/ texture.